The predecessor of Zechuan International Logistics Group Co., Ltd is providing professional freight services from China to CIS countries, Mongolia and inland of Russia or vise versa. Our professional businesses include domestic transportation, international railway transportation, muti-modal transportation of containers, international railway transportation, storage, load and unload, wrapping and distribution service.
We also provide managing and leasing businesses in containers, wagons, special facilities for containers, railway tarps. Our business scopes cover both domestic and international freight services and those which are related, such as consultation in economics, technology, information and services. Our service net works are all over the country, mainly focusing on the Pearl River Delta region, Yangtze River Delta region and Eurasian Land Bridge region.
Based on the traditional international railway transportation and cored on the experienced railway freight agencies both home and abroad, our group keeps on developing new sources of agencies and also makes innovation. We have focused on expanding, developing and providing more perfect services for export and import railway transportations to Mongolia, Russia and CIS countries for all the time. Our group has also exploited and perfected sea-railway transit transportation from Japan, Korea, Southeast Asia, South Asia to Kazakhstan, Uzbekistan, Russia, etc.
Our Group is a first class Chinese freight forwarder of Kazakhstan, Uzbekistan, Russia and Mongolia railways.
Main dispatch stations: Lianyungang, Shenzhen, Guangzhou, Foshan, Shanghai, Tianjin, Ningbo, Xiamen, Qingdao,etc.
Main F/D countries: Kazakhstan、Uzbekistan、Tajikistan、Kyrghyzstan、Russia, Mongolia, and Belarus.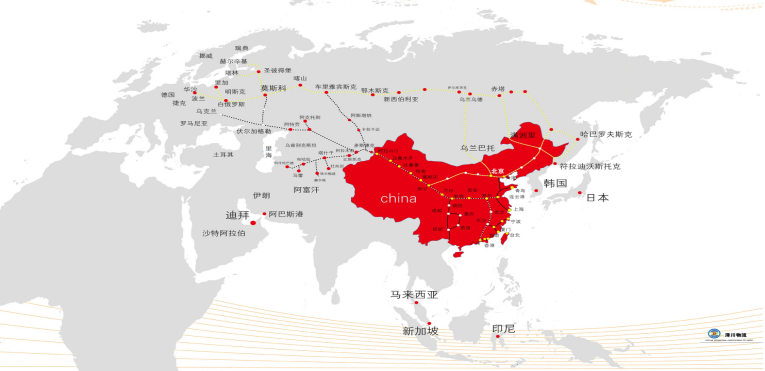 Competitive advantages
Positive Image: in the top of the market share, outstanding and stable growth, universal praise from the clients.

Full service: maximize the profit of our clients and satisfy different needs of different clients.

Excellent sfuff: powerful cohesiveness, professional teams with responsibility and patience.

Favorable quotation: competitive and advantageous quotation.